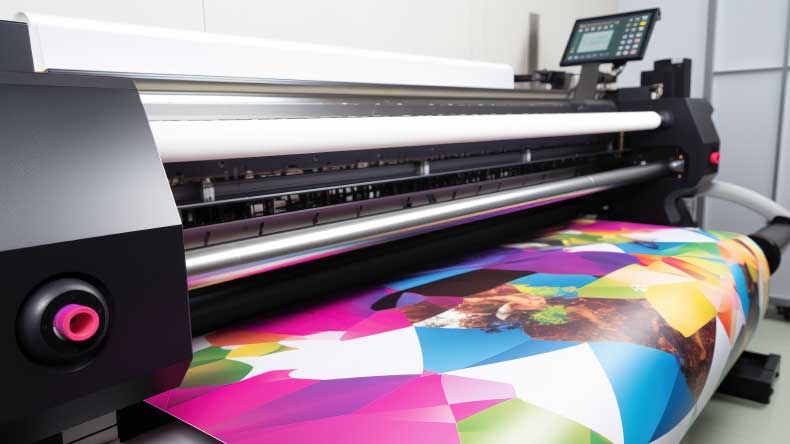 What Is Large Format Printing?
You'll sometimes hear large format printing referred to as grand-format printing or wide-formatting printing. Whatever you call it, it's printing too large for the average commercial printing press to handle. Large format printing requires specialized equipment to that can deal with larger-than-normal print dimensions
Large format printing is something of a relative term because printers differ as to the maximum print size they can accommodate. But as a general rule, large format printing is required to produce items like posters, maps, diagrams, charts, big wall calendars, event announcements, child growth charts, promotional signage, store displays, standees, vertical or horizontal banners, and important notices addressed to students, employees, or other groups.
Large format printing is a useful resource for nearly any business, and it helps to know something about it to derive the most benefit from it. According, here are five things that are well worth knowing about wide-format printing even if you yourself are not the printer.
Large Format Printing Benefits
Let's begin with the matter that may be of most concern to a business owner. What benefits does grand-format printing really give you? Why should you pay your printer to provide it?
Simply put, large print items catch the eye even at a distance and are easy for people to read. As such, they're great for promotional purposes, as visual aids in a classroom or any instructional setting, or for quick reference.
Additionally, large format printing also provides durability. Partly this comes from the ability to print on a variety of materials, some quite durable, including cloth, vinyl, wood, glass, corrugated plastic, foam board, and metal. Partly it derives from the ability to print with UV-resistant ink. The result is signage that stands up in the face of sunlight, heat, and precipitation.
What Kinds of Printers Are Used for Large Format Printing?
As mentioned above, large format printing required specialized equipment. Typically, a commercial printing company uses a flat-bed printer, a roll-to-roll printer, or a printer that combines features of each.
A flat-bed printer uses its bed to carry the material to be printed on through the printer mechanism itself. During the process, UV light turns liquid ink into solid ink. Flat-bed printers are especially useful when the job requires printing on thick or less conventional substances.
Roll-to-roll printers unspool a material to run through the printer and be rerolled when it comes out the other side. Roll-to-roll printers are good for printing canvas, banners, or anything on flexible material. They can allow printing to go proceed more quickly.
Combination printers come with flat beds and rolls, each of which can be removed or attached as necessary for a specific large format printing job.
The Basic Process of Large Format Printing
Whatever the type of printer being used, large format printing essentially proceeds as follows. The press uses large nozzles to lay down toner, and ink is then applied directly to the product, which creates a more authentic feel. In its essence, grand-format printing is quite similar to regular digital printing. It can provide full color and produce high-quality images including photographs.
Ideal Products for Large Format Printing
We've already mentioned the many types of product that can be produced using large format printing, but perhaps some of that information bears repeating. Grand-format printing is ideal for posters, yard signs, trade show signs, point of purchase displays, banners, and wall and floor graphics.
What Sorts of Files Yield the Best Large Format Printing Products?
When preparing files, it's important to know that banners and similar products can be of virtually any length, but the majority of large format printers can only handle a width of 61 inches or less.
Additionally, the highest resolution possible guards against a decline in quality as a byproduct of enlargement. You should also be aware that the printers use standard CMYK breakdown and create files with these separations in mind.
We hope this information has proved helpful. For large format printing or any printing need, we invite you to contact AmeriPrint here in Metairie.